Making her future
A member of the second cohort of design engineers in the newly formed joint Brown-RISD master's program, Carlissa Arrow AM '23 is honing her maker mindset in hopes of constructing a career path that involves hands-on product design.
As a mechanical engineering and public policy graduate of Vanderbilt University in 2021, Carlissa Arrow knew where her passions were, but with so many interests in seemingly different directions, she wasn't sure how it would weave together into a career, and what the best educational path to get her there would be. 
"It started off with doing what I thought I needed to do, and then slowly doing what I enjoyed doing," she said as she reflected on how she ended up in Providence. "I started at Vandy as a biomedical engineer because I wanted to start my own biomedical device company to make affordable health care for people. Then I was exposed to human-centered design, the design-thinking process, IDEO, and a maker space. And honestly, I just realized what I like is making things. But how do you enter the design industry? You need a portfolio, which I figured I could do best through a mechanical engineering curriculum," she said.
Arrow gained early hands-on experience creating objects in middle school, where she joined her school's robotics club in Birmingham, Ala. and was introduced to basic woodworking, ideation techniques, CAD and interdisciplinary teamwork. 
"While in college, I wanted to be on the front end of how things are made, so I interned in manufacturing at Procter & Gamble, and then realized I wanted to be even closer to the product," she said. "I had done some research into graduate design programs, and there was nothing else out there like MADE (the Brown-RISD Master of Art in Design Engineering). Most of the graduate programs out there that highlight the intersection of design, engineering and art are focused on digital interfaces, apps, and software development. And it's not that this program doesn't do that, but there are very few programs that focus on physical products, object-making, service design and social innovation. I wanted to go into a program that would value and expand my existing making skills that I'd had since I was ten years old.
"In the middle of the 2020-21 winter, I found an ad for 'Design Engineering Brown-RISD', and the only reason I even knew what any of that meant was because of a Vanderbilt friend who was at RISD for her master's in industrial design. She just praised RISD for its design education, and I recognized it was a joint program with the Brown School of Engineering, so I thought this has to be pretty good."
An accepted application and a gap year later, it seems to be working in her favor. She completed a co-op opportunity in Research and Development at Hasbro last winter, where she had a front-row seat with industrial designers and electrical engineers who were ideating new concepts for products like Play-doh, the company's signature modeling compound. "I learned so much about the toy industry, design, what it takes at Hasbro, and in industry in general, to push ideas forward," she said. 
Now in the final stretch of the intensive, 11-month residential MADE program, she is an advocate for others who are like-minded about building things and considering graduate school. "If your interest is in making physical products, you are going to be well supported in doing that here," she said. "Brown and RISD are such a good combination, and being a full student at both universities, I cannot think of another two schools that could give an opportunity at that level. This intersection is very unique if you take advantage of it," she said.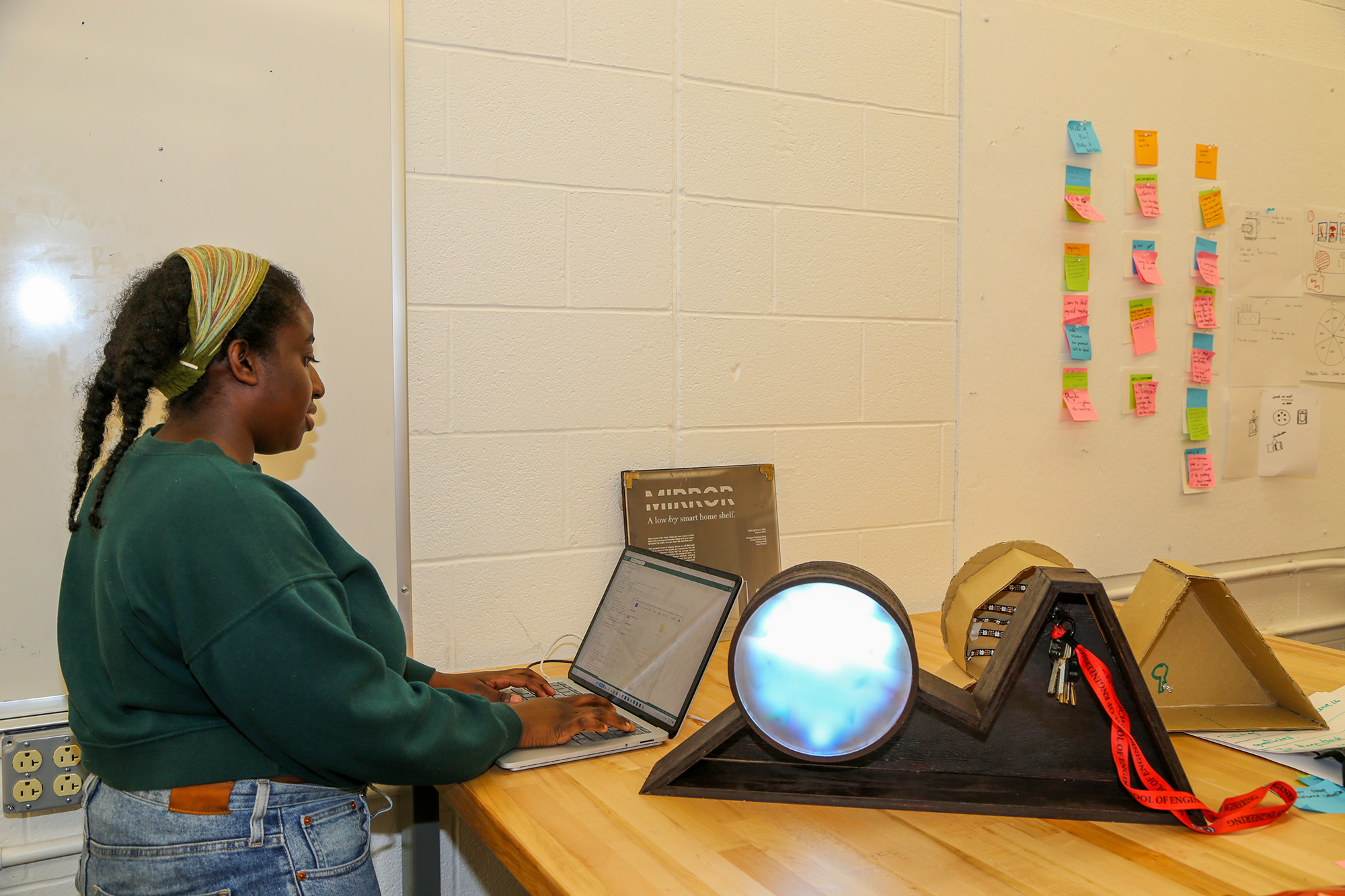 Arrow has been able to steer her interests to take such advantage, becoming a member of the Community Lab at the Nelson Center for Entrepreneurship (a highly selective cohort of students with their very own workspace, 24-hour access to the building, sector-specific mentoring, and access to alumni, industry leaders and venture capitalists). Additionally, she can often be found bouncing between the Brown Design Workshop, RISD's Nature Lab and the MADE classroom in Barus & Holley. Arrow has begun work to expand a summer project where she worked on a team of artists and designers to develop a smart furniture device, specifically a smart shelf that will help people remember their keys before they leave the house. 
"What I like about Brown specifically is that it seems like students are set up to be successful. Their ideas and their passions are supported. When I look at my cohort, I believe the people most satisfied are the ones who are truly interested in physical project making, who want to make a social impact, and are really driven by their personal interests. 
"The focus is on design principles and design thinking, but I would say, at least for me, it's the physical object making that sets the program apart. A digital project is a companion to a physical project, which is strongly encouraged and we are given the tools to build models, prototypes - really iterate in every phase of this program."
For her passions that burn outside of prototyping, Arrow is employed part-time by the University as a graduate student coordinator of the UFli (Undocumented, First-Generation College and Low-Income Students) Center on the fifth floor of the Science Library. In this role, she helps coordinate events to connect students with both the offerings of the physical space and to build community connecting them with available resources. "Being able to advocate for what students need, especially low-income, undocumented students, is very meaningful to me," she said. "This is a very hard group to reach out to because no one is walking around saying 'Hi, I'm undocumented.' I got involved because I consider myself a low-income student, and I found the opportunity at an activities fair. I'd never had anything like that as an undergraduate student. I know first hand that can be a very difficult identity to navigate at an elite university.
"One of the benefits of the position is that I got to be part of breakfast with the Brown Corporation to talk about financial insecurities of masters students who are undocumented, first-gens. You know, I go back and forth, but with my double major in public policy at Vanderbilt, people didn't always understand where I was coming from, but I always knew there were intersections between the two. I was always passionate about politics and service, implementation and problem solving. I think that's so important for engineers: People in STEM should understand how our work affects society, and how society affects our work.
"There is so much out there in the design world," she continued, "like public policy design studios, public policy labs that hire designers. If you are willing to take the risk on what you like, and see how design can apply to it, this is a satisfying industry." 
For Arrow, MADE helped build the next step in her trajectory. "I don't want to jinx anything, but I'm hopeful to get a job in the tech industry as a product design engineer, or product management, maybe in the innovative/R&D space. I could see myself eventually having my own makerspace, specifically for young people and coming full circle," she said.